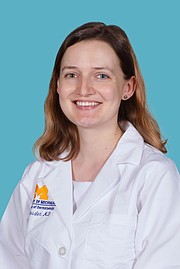 • Kelsey West has joined Stockman Bank in Kalispell as senior vice president, commercial loan officer. He will be responsible for providing full-service banking services with a focus on commercial lending in areas including land acquisition, construction-to-permanent financing, and other commercial and industrial needs.
West brings over 20 years of banking experience to the position, which includes commercial lending, credit analysis and business development. His background with both small community banks and larger corporate banks makes him uniquely qualified to assist clients with an array of financing needs.
West was born and raised in Glasgow, graduated from the University of Montana with a business finance degree, and graduated from the Barrett School of Banking in Memphis, Tennesse. He serves on the loan committee for Montana West Economic Development, is a member of the Sunriser Lion's club and coaches his son's baseball team.
• Kristen Broughton, Jodie Cross, Bethany Johnson, Lisa Mack, Lacey McNutt and Janine Rubinfier, who are members of the Northwest Montana Association of Realtors, are among the realtors who earned the Graduate, which is a Realtor Insitute Designation that shows a real estate professional has made the commitment to provide a high level of professional services by securing a strong educational foundation. In Montana, a GRI graduate must complete over 60 hours of in-depth training over three years before graduating with the prestigious GRI Designation.
• Architect Shane Jacobs, with A&E Design in Kalispell has been promoted to the status of associate. Jacobs has demonstrated outstanding commitment to the firm's success through his leadership, design skills, and contributions to the profession, the company notes.
• Dr. Julie Gessler is joining Dermatology Associates in August of 2022. Gessler is a graduate of the University of Michigan Dermatology Residency program in Ann Arbor, Michigan. She graduated first in her class from the University of Tennessee College of Medicine and completed her intern year in Memphis, Tennessee. Gessler holds a bachelor's in chemistry, a bachelor's in Japanese linguistics and speaks English, Russian and Ukrainian.